A motorcycle inspired on bikes like Triumph, BSA or Penton of the 60's that used to ride the International Six Days Trials. Light bikes with small headlights, flat handlebars, minimalist seat and off road tires, motorcycles that were capable of riding trails and woods for days.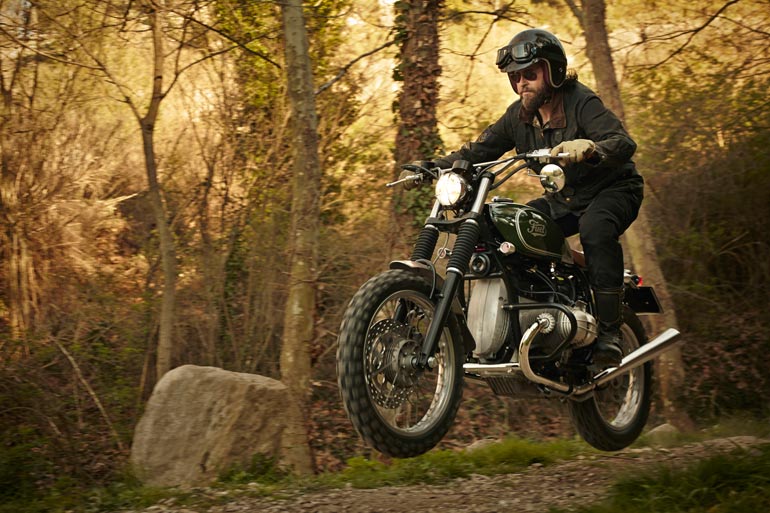 "In this bike, commissioned by a classic bike enthusiast living in the Austrian Alps, we have been working not only on aesthetics but also improve its performance.
The front fork is from a BMW K75 Sport which has been adapted by designing and machining the front axle and the triple trees. The brake section has also been improved with a 320mm oversize disc, a 4-piston caliper Brembo and Nissin master cylinder. The entire front disc and displacer caliper has been designed by Fuel and built by a specialist.
The rear has been entrusted to a Wilbers shock with multiple adjustments. We have also worked on the exhaust and collectors for a set of 2 plus 2 exhaust manifolds (originally the R80 carries a 2 collectors with a single exhaust) and also varying the angle of the mufflers to take higher and improve their height the ground.
All the subframe is constructed again to get a slimmer line, shorten and strengthen the bike for off road use.
In the front of the bike we got a headlight from a classic spanish trial bike, the headlight bracket has been created and built for a "clean" look of the fork, high performance Motogadget speedometer, handlebar Tomaselli, indicators switches from an old Triumph, classic enduro grips and a car type starter motor relocated to the side of the bike.
On one side of the Kawasaki tank we have incorporated a gearshift from an old Ural (suicide shift) and thanks to an ingeniously and simple mechanism acts on the choke,when you push down the handle the choke gets open, a "divertimento" which, aesthetically, gives personality to the bike.
There have been five months of hard work that has enabled us to make a step further and keep learning and improving our buildings."
photographer: Claudio Rizzolo.